On May 29, multiple Grammy-winner Kathleen Battle returns to Roy Thomson Hall for the first time since 2008. Her performance will feature the spirituals that have appeared in her repertoire for years, garnering wide acclaim, but which take on special meaning when brought together under the banner of Underground Railroad: A Spiritual Journey, a special afternoon of song featuring acclaimed pianist Joel A. Martin and Toronto's own national treasure, the Nathaniel Dett Chorale.


That Battle returns to the Hall is cause for celebration. But that she does so with a program of the pieces that have proven some of her most popular and affecting makes this upcoming performances an even more exciting prospect. In her last appearance in Toronto, one reviewer called the two spirituals with which she wrapped up the performance "the best singing of the afternoon… She treated them tenderly, naturally and freely." The audience, he added, was deeply moved "and demonstrated as much in the heartfelt liveliness of its applause."


Much in the way that spirituals themselves – like the blues music they inspired – offer a celebration amidst difficult conditions, so, too, does Underground Railroad provide for both excitement and contemplation. The performance covers important and wide-ranging ground, telling a story not simply of a time in the past but of our present. Because the story in question – of American slavery and the efforts of so many to free themselves from it – is one that resonates, and continues to unfold, to this day: Refugees, racism, violence and reconciliation are all issues that continue beyond the end of the proverbial Railroad; the reflection that Underground Railroad inspires, therefore, is a major part of what makes this production important.


Battle's decision to return to the Roy Thomson Hall stage has less to do with mapping a concert tour than it does with mapping the content of the performance: Like all cities that will host performances of Underground Railroad, Toronto played a part in the story the production tells.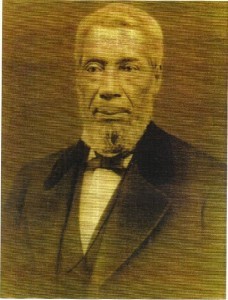 Rev. Samuel H Davis, an Underground Railroad station master who used his church as a safe haven for slaves. (Courtesy OBHS)


"Between 1840 and 1860, even before the American Civil War, slaves followed the Northern Star on the Underground Railroad to find freedom in Canada," notes Nikki Clarke, President of the Ontario Black History Society, a partner in this special presentation. "They risked everything for freedom: They left their families with the angst that they may never reunite. They risked their lives as they navigated through secret, dangerous routes and stops led by their conductor. The cargo as the slaves were called, traveled mostly on foot through untamed wilderness and extreme weather conditions. They paid the price to pave the way for over 30,000 slaves' emancipation: exodus to the promised land."


But while our contribution to the eponymous escape route is noteworthy, we also continue to struggle with the issues brought to the fore by Underground Railroad. This performance will provide an important opportunity to address them – and the spirituals that comprise the performance an ideal vehicle.


"Audiences will be taken to passages of the past to grasp the essence of the escaped slaves' courage and faith," adds Clarke. "Our mandate to promote, protect and preserve black heritage in Canada is beautifully aligned with this musical adaptation."


Battle's own connection to spirituals is deep, as she recently explained to a reporter: "There's not a spiritual I've ever heard that I didn't want to make my own. I may not have sung them but they live within me." That makes for an intense experience – for both listeners and singer: "When you're in one spiritual," she said, "you inhabit that space. If you string a lot of them together, it can weigh heavy on your heart."

That connection has clearly been inspiring Battle, with enthusiastic receptions greeting recent Underground Railroad performances. In Richmond, Virginia, one encore wasn't enough for the theatre: "the audience called Battle back three more times, and she repaid them in purest gold, the Kathleen Battle voice, a capella."

On May 29, that voice, we're sure, will inspire audiences to more than an intense appreciation of the timeless songs on the programme. That voice will inspire important and valuable reflection upon the history and trajectory that these songs evoke.