Each year, as the moments and memories pile up, we like to take a minute to recognize and thank the incredible and dedicated staff, crew, patrons, artists, and community of leaders who help make Massey Hall so magical – night after night.
Over the past year, among countless happenings, we welcomed over 200,000 people through its famous red doors including more than 1800 students from 44 different GTA schools and community groups at Share the Music workshops and concerts. We honoured Blue Rodeo with The Massey Hall Honours Award on stage in front of a capacity crowd, kicked off our history-making 7-year Revitalization project, and our staff received the inaugural Canada Music Live Award for Best Teamwork in a Soft Seat Theatre. The legendary boards hosted iconic musicians and entertainers including Emmylou Harris & Rodney Crowell, Matt Andersen, Ringo Starr, Buddy Guy, Amy Schumer, Yo-Yo Ma and the Silk Road Ensemble, Tanya Tagaq, Chris Hadfield, Leon Bridges, Steve Reich, Bahamas, Smashing Pumpkins, and this very special tribute to Prince.


Today marks the 122 birthday of our beloved Grand Old Lady of Shuter Street and we thought it was a nice occasion to share with you some of the items that we dug up recently in our archives. For us, it all brings home the idea that we're a part of a Canadian tradition, engaged in more than just presenting events. Massey Hall is a place where friends meet, where musical dreams become realized, and where important conversations and ideas can happen.

Happy anniversary Massey Hall!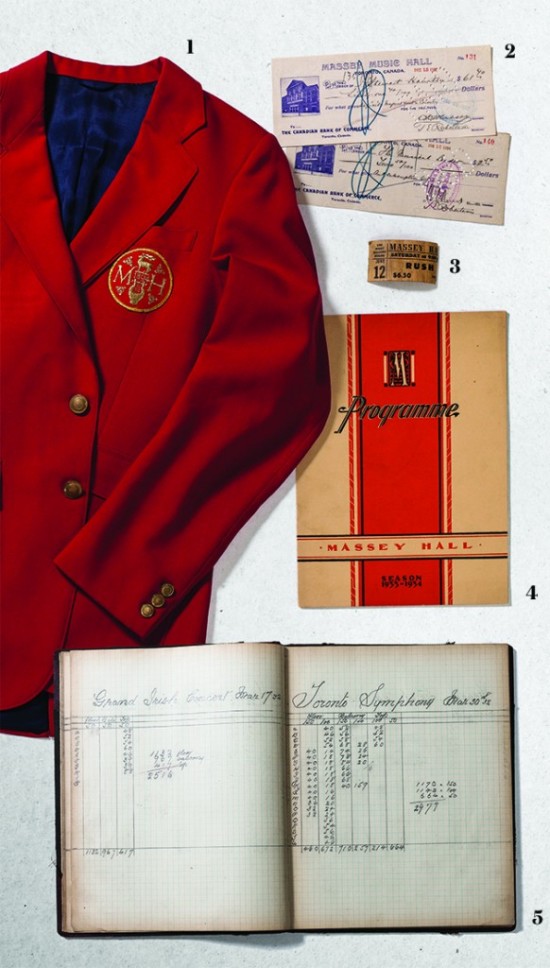 1. USHER UNIFORM
It wasn't enough to coat the Hall's doors in fire-engine red: Coming into the Hall in the early 80s?, audiences were confronted with ushers dressed to match.
2 & 5. LEDGER and CHEQUES
A glimpse into the bookkeeping, and calendar, of the Hall of the early 1930s, when accounting was done by hand, in pencil and with pretty amazing penmanship. Over the course of this period, the Hall hosted many amazing performers, a few of which still grace our Halls: The Mendelssohn Choir (then approaching their 30th anniversary), the Salvation Army, the Toronto Symphony Orchestra; George Gershwin, Ballet Russe, the Detroit Symphony Orchestra and many more.
3. RUSH
While cleaning up backstage in late 2015, our staff unearthed this vital piece of CanRock history: June 11-13, 1976, Rush recorded the over-one-million-selling All the World's a Stage. President and CEO Deane Cameron quickly placed the artifact in a frame, and today, it sits at his desk.
4. PROGRAM
In January, 1934, Massey Hall hosted "the boy genius of the violin," Yehudi Menuhin – who himself performed a Mozart concerto, Concerto in D major (The "Adelaide"), only recently discovered in Paris. The copy we found, autographed by Menuhin, offers a glimpse into an amazing past: Where new women's washrooms were installed in the basement; where a miniature grand piano set you back a cool $1000 from Eaton's, while a top-tier ticket at the Hall went for $2.50; and where Massey Hall put out a call for old programmes, photographs, or other souvenirs that might be included in a booklet celebrating the 30th anniversary of the laying of the Hall's cornerstone.