Roy Thomson Hall presents

One of the world's greatest living pianists, Evgeny Kissin, returns to Toronto this spring, three years after his critically acclaimed, sold-out performance at Roy Thomson Hall in 2015.

For this performance, Kissin brings an exciting programme which includes Beethoven's Sonata No. 29, Op. 106 "Hammerklavier," considered one of the composer's greatest and most challenging pieces, as well as a selection of 10 preludes by Rachmaninoff.

In August 2017, Kissin released his first solo recital recording in more than a decade (via Deutsche Grammophon). The recording documents "Kissin's evolving relationship with Beethoven in a series of personally curated live recordings" (Gramophone). From child prodigy to living legend, Kissin has received numerous awards and accolades, having contributed significantly to the library of masterpieces recorded by the world's greatest performers.





---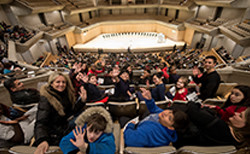 A Part of
Share the Music

Programme:


BEETHOVEN
Sonata No. 29, Op. 106 "Hammerklavier"

-INTERMISSION-

RACHMANINOFF
Seven Preludes from Op. 23
Three Preludes from Op. 32

Programme subject to change.
Programme Details

Stage Seating tickets are available starting from $99.50, please select your seats for this unique experience here. If you require accessible tickets please contact the Box Office at 416 872 4255 or contactus@mh-rth.com
Roy Thomson Hall