Sing-Along Messiah
Directed by Mr. Handel
Presented by Tafelmusik

Margot Rood, soprano
Lucile Richardot, mezzo-soprano
Thomas Hobbs, tenor
Peter Harvey, baritone
Tafelmusik Baroque Orchestra and Chamber Choir

A thrilling, massive sing-along of Handel's beloved choral masterpiece.

Does the holiday season give you an uncontrollable desire to burst into song? Join Tafelmusik Baroque Orchestra and Chamber Choir, four soloists, and a choir of thousands led by Mr. Handel himself for a thrilling, massive sing-along of Handel's most beloved choral masterpiece: Messiah.

Messiah transcends boundaries with its message of charity, peace, goodwill, and sacrifice. It also contains some of the most uplifting, touching, and magnificent music ever composed—ideal for a truly inspiring sing-along! Pick up your score, warm up your vocal chords, don your holiday finest, and join us in our new surroundings at Roy Thomson Hall for one of the best-loved traditions of Toronto's holiday season.

---
Families and children are welcome. Children under 2 attend for free. Save 15% when purchasing 6 or more regular price tickets.
This event is general admission. Seating is assigned by voice part – soprano, alto, tenor, and bass. There will also be a general mixed section for groups that want to sing together.
---
What's interesting about this concert?

• From first-timers to Sing-Along experts, everyone is welcome (including kids!).
• Our annual Sing-Along turns 34 this year, and is Toronto's biggest audience participation Christmas concert.
• The concert is led by George Frideric Handel himself, in full baroque costume and powdered wig - he will encourage you to "raise the roof" during the choruses!
• This will be Sing-Along's second year in Roy Thomson Hall, while Massey Hall goes through its revitalization.

Program:
Selections from Handel Messiah

Concert run time: approximately 2 hours and 30 minutes. Intermission is 20 minutes.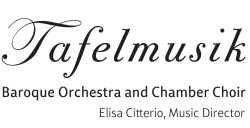 Groups of 6 or more get tickets for $42 each.
Patrons 19-35 years of age can access $20 tickets by signing up to Tafelmusik's
Tafelscene program
Orders containing Youth (18 and under) tickets are Will Call only, with valid proof of age ID required at time of pick up.
Orders containing Tafelscene $20 tickets are Will Call only, with valid proof of age ID required at time of pick up.
Roy Thomson Hall